Alpha Hotels are located in thriving Business Centres and Corporate Parks, so we have a wide range of facilities and services designed with Business travellers in mind – both for work and some much- needed down-time.
If you book regularly, or have extended hotel stay requirements for business travel to one or more Alpha Hotels, you will most likely be eligible for Corporate Connect Rates.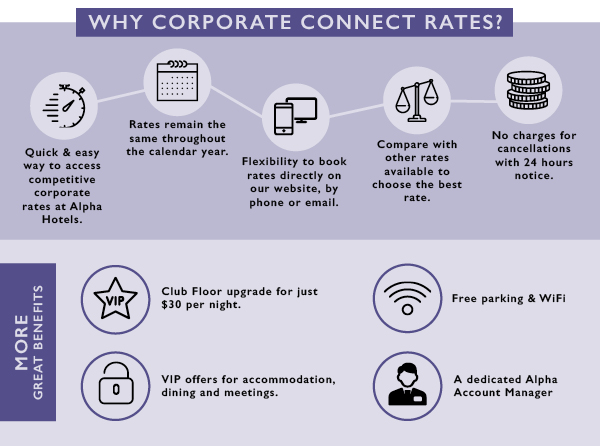 Am I eligible?
Whether it is accommodation required for a project, for regular travel into your head office, or you are on the road seeing customers. If you have the need to book or stay in our hotels we want to make certain your loyalty is recognised with a competitive rate.
If you can answer YES to questions below, then please complete the online form to request Corporate Connect Rates:
1.Do you book or stay at Alpha Hotels for business travel?
2.Are you expecting to book (for yourself or someone in your organisation)
at least 5 times in the next year?
3.Will you be making the Alpha Hotel booking on our website or by calling
the hotel directly?
That's yes, yes, yes! Complete our on online form to request Corporate Connect Rates here.
Our team will review your application for Corporate Connect Rates and respond to you
within 24 hours.
Steps for booking
Go to www.alphahotels.com.au and select your Alpha Hotel or BOOK NOW
On the booking page,  add the code you have been issued in the promo code area
The promo code will display the Corporate Connect Rate as well as the
Best Available Rate
Select and book the rate that is most suitable for your stay
In December each year we will contact you to advise any change to
Corporate Connect Rates and issue a new promo code for you to use.
I use a Travel Agent
Corporate Connect Rates are only available for our business travel clients who book
direct with us.
However, we are always pleased to work with you and your Travel Agent or Travel
Management Company to contract rates, and make them quickly accessible to book
on the relevant system.
Please contact the hotel directly or email res.easterncreek@alphahotels.com.au so we can
discuss your needs.